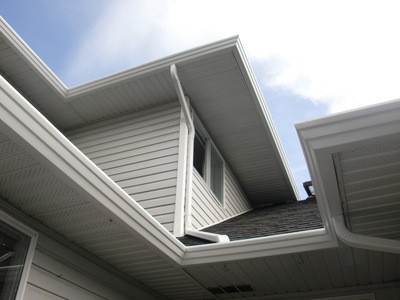 GUTTER & EAVESTROUGH REPAIR
Just as time, landscaping and tough weather conditions can damage your roof, they often also damage your Eavestroughs. When Rain Gutters start to fail they can sag, clog, leak and even fall. Hiring a professional for your Eavestrough Repair is great preventative maintenance for your home – you'll significantly reduce the risk of serious damage later on down the road!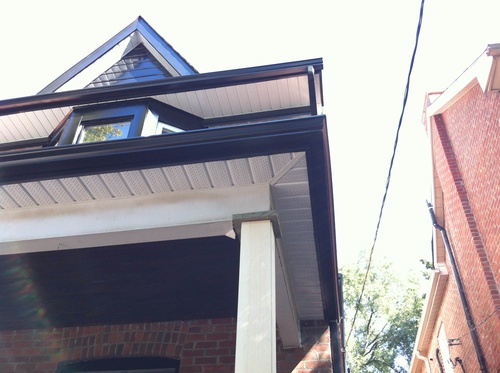 We can install almost any kind of Toronto eavestrough. Our professional team can perform the eavestrough installation on time, whenever it's most convenient for you. We have roofing experts who know how to set up the best gutter system for your property, while also ensuring it works with your roofing materials.
Customized Gutter Installations in Toronto
Gutters can be challenging – especially when your home has many curves and peaks that are just too difficult to reach. Rather than trying to install an eavestrough on your own, contact MX Roofing for a customized solution. With us on your side, you can rest assured we can design your gutter system and go the extra mile to meet your particular needs.
Options for Eavestrough Materials. Take advantage of our eavestrough installation expertise in Toronto and let us give you advice on the gutters that are most compatible with your property. We have many materials available which are best suited to various climates and existing roofing materials. Before we work on a project, our roofers will inspect your current roof and provide our recommendations, an estimate, and expected timeline.
Gutter Cleaning for Your Toronto Residence
At Alpine Roofing, we work with you to improve your property and keep your home safe. If your Toronto eavestrough has a leak, your home's exterior and foundation are at risk. Water damage can damage external surfaces. Repainting your walls or replacing your home's siding can cost you a lot of money. In addition, rainwater runoff can degrade your home's foundation. We will optimize the way water flows around your property with a gutter system of sturdy joints and downspouts.
After a long winter, it is also useful to schedule gutter cleaning and maintenance. Our roofers will visit your property and remove any leaves, debris, or bird nests that may be blocking the flow of water out of your eavestroughs. With effective gutter cleaning in Toronto, you can rest assured that water will flow off of your roof and away from your property without causing damage to the surrounding property.
Contact us for Eavestrough Installations & Repairs
Keep your home's siding from rotting, save your property's foundation from erosion, and prevent rainwater damage with our eavestrough services in Toronto.
Areas we Cover:
Markham, Scarborough, Toronto, GTA, Mississauga, Vaughan, Pickering, Ajax, North York, Whitby, Oshawa, Newmarket, Aurora, Bradford, Keswick, East Gwillimbury, Beaverton, Alliston, Orangeville, West Gwillimbury, King Township, York Region, Willowdale, Oak Ridges, Barrie, Richmond Hill, Stouffville Ontario.
Our commitment to doing the job right the first time is how we've built a reputation for honesty & quality craftsmanship – that is unmatched by our competitors. - Contact Us today to get a free quote.

Contact us at MX Roofing by sending us an email to MXROOFING@GMAIL.COM, or call 647-200-7811 today.